Graduation is an important occasion in a person's life, as it represents the end of one era and the beginning of a whole new chapter. Luxury watches make perfect graduation gifts and they serve as wearable ways to celebrate such a momentous milestone. Regardless of what your recent graduate plans to do next, they will certainly need to be on time for it, and what better way to help keep them on time than by giving them a beautiful luxury watch?
When properly maintained, a quality timepiece will last multiple lifetimes and many become family heirlooms that get passed down to future generations. Graduation is a big deal, and your recent grad deserves the best. Luckily, there are fantastic luxury timepieces to suit every possible style and budget, and below we are taking a look at some of the top luxury watches to give as graduation gifts this year.
Click here for a closer look at some of the most iconic luxury watches every collector should know.
Rolex Submariner
For a go-anywhere, do-anything watches that can be worn with anything from a wetsuit to a three-piece suit, it is hard to beat the classic stainless steel Rolex Submariner. First introduced in 1953 as a watch designed specifically for scuba diving, the Submariner has become one of the most famous and instantly recognizable luxury watches in existence, and it is worn by everyone from professional athletes and A-list celebrities to explorers and military personnel.
When it comes to Rolex Submariner prices, the sky's the limit and certain collectible vintage references have been known to sell for over a million dollars at auction. However, when it comes to choosing a Submariner for your recent graduate, easily one of the best models to give them is the classic Submariner Date reference 16610 in stainless steel and fitted with a black dial and matching black bezel.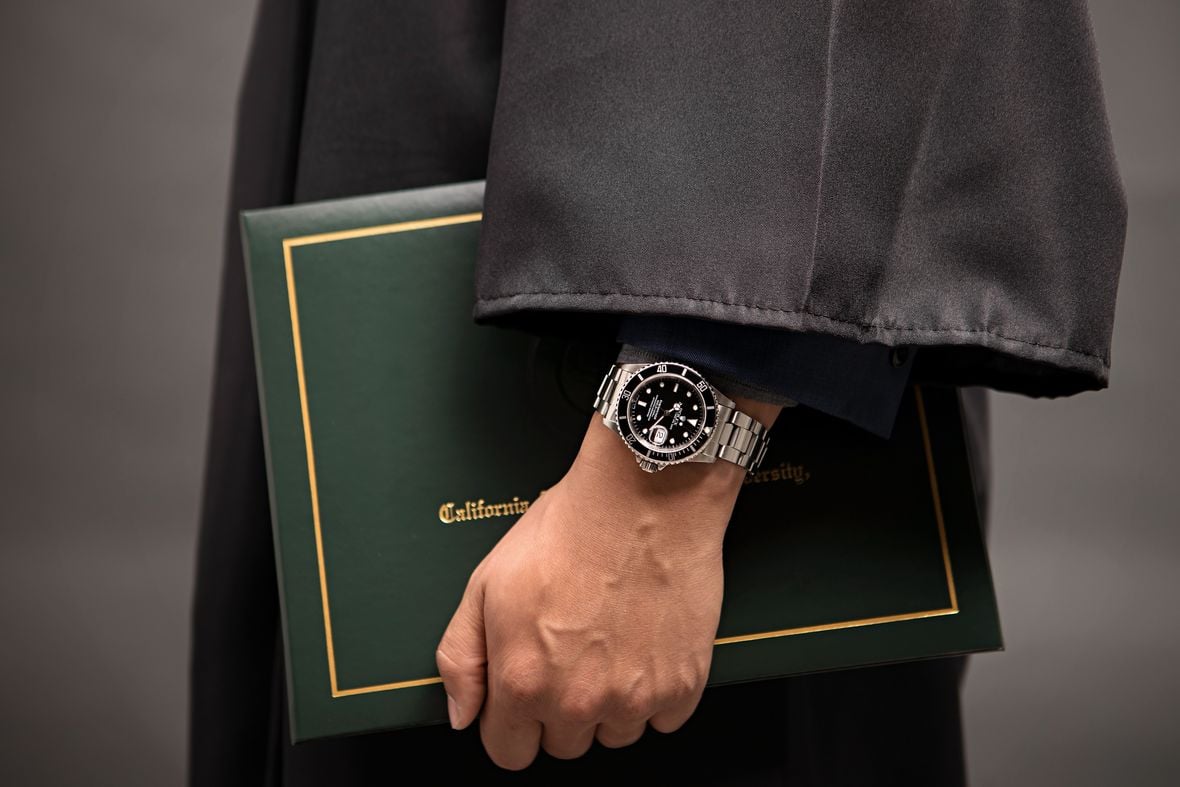 Not only is the Rolex Submariner reference 16610 consistently among the most affordable Rolex Submariner models available, but it's also the perfect blend of classic and modern design elements. On one hand, you naturally want the latest and greatest technologies, but part of why the Submariner is so universally celebrated among collectors is because of how consistent its design has remained throughout the decades. The Submariner 16610 offers the best of both worlds in a timeless and highly versatile package.
The reference 16610 adheres to the classic case proportions of Rolex's iconic dive watch and is even fitted with an anodized aluminum bezel insert. However, with a scratch-resistant sapphire crystal, 300 meters of water resistance, and a case and bracelet crafted entirety from highly corrosion-resistant 904L stainless steel, the Rolex Submariner 16610 is more than tough enough to stand up to the rigors of everyday wear and use – whether your graduate will be sitting behind a desk or diving deep below the surface of the ocean.
Rolex Lady-Datejust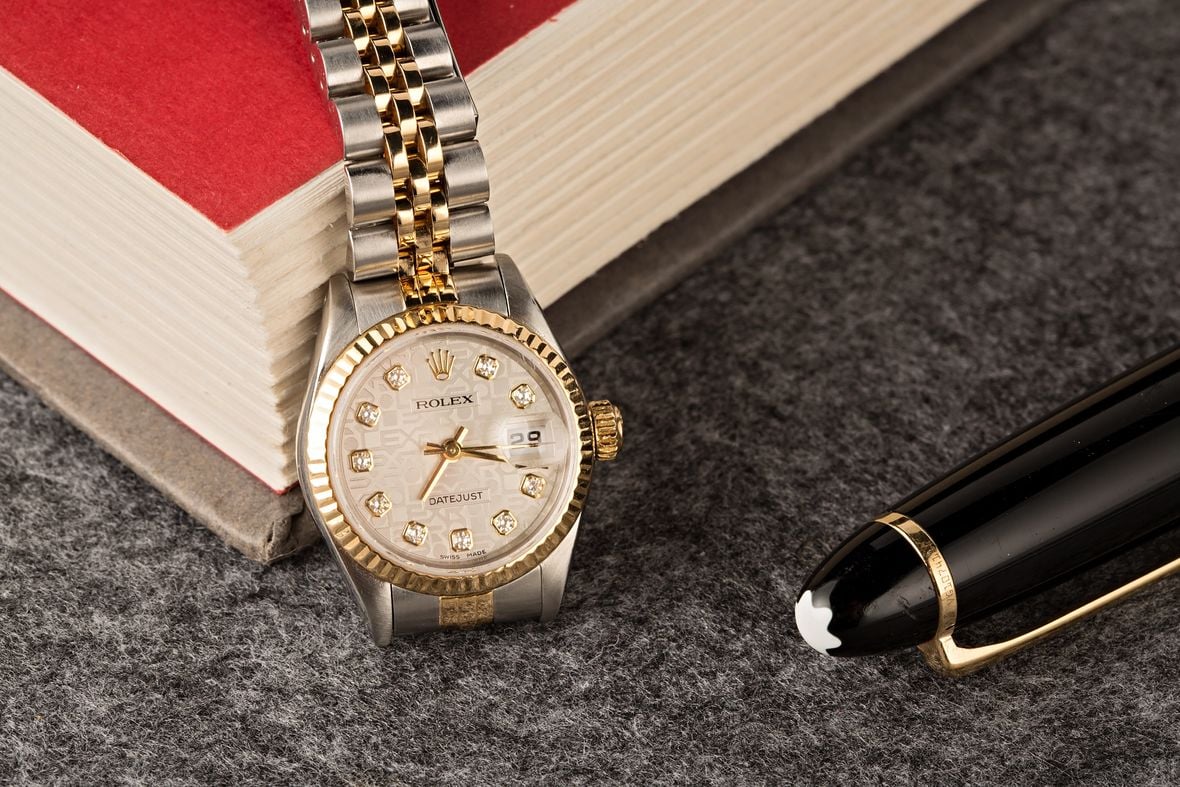 Despite all of the recent attention on the brand's various sports models, the single best-selling Rolex watch of all time is the classic Datejust. First introduced way back in 1945, the Rolex Datejust forever set the standard for how a calendar display on a wristwatch should function, and it has been a cornerstone offering of Rolex's catalog ever since.
Since the 1950s, Rolex has offered the Datejust in multiple sizes, and for those who want this timeless classic in a more compact size, the Lady-Datejust is the perfect option that offers all the same legendary durability and timekeeping performance in either a 26mm or 28mm case. When it comes to value for the money, arguably one of the best buys in all of pre-owned Rolex is the classic two-tone steel and yellow gold Rolex Lady-Datejust reference 69173.
Beyond its reduced case size, the Rolex Lady-Datejust is very much the same Datejust that the world has known and loved for decades. Powered by a COSC chronometer-certified movement, and featuring the collection's iconic date window at 3 o'clock, the Datejust 69173 is water-resistant to 100 meters and offers a timeless aesthetic that has never once looked outdated in more than half a century of continuous production.
For many people, the Datejust is the quintessential Rolex watch, and the reference 69173 offers all of the hallmark Rolex Datejust traits in a classic, compact, and instantly recognizable overall package. The reference 69173 is consistently among the most affordable steel and gold Rolex watches (even the examples that have diamond-set dials), and compared to the larger size versions of this iconic Rolex classic, the ref. 69173 offers a value proposition that is seriously hard to ignore.
Omega Speedmaster Moonwatch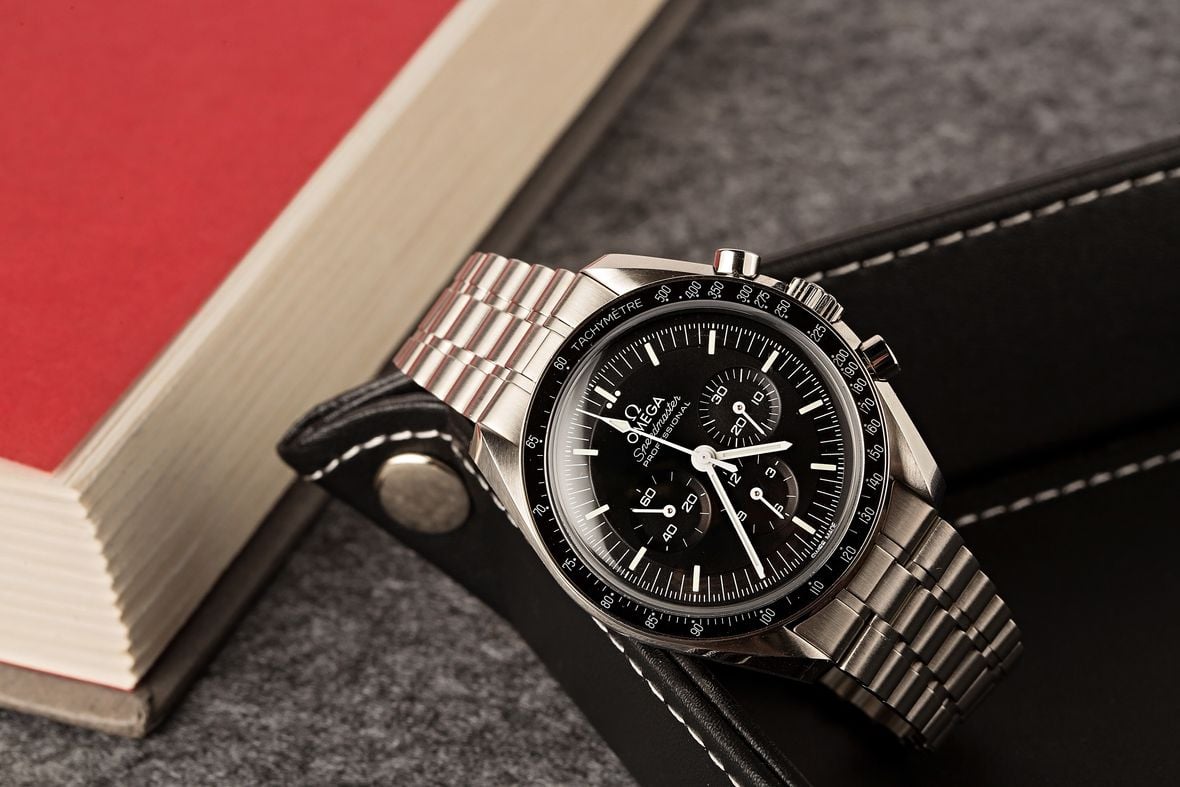 The Omega Speedmaster is one of the undisputed legends of horology and it is easily the most famous model from the brand's entire lineup. Originally created in 1957 as a chronograph for the automobile racing crowd, the Speedmaster is now best-known throughout the world as being the official flight-certified watch of NASA and the first watch worn on the moon.
Vintage Omega Speedmaster models (particularly those with Caliber 321 movements) are highly sought after by collectors. One of the best things about the Speedmaster is that modern versions of the watch offer a very similar wearing experience to the vintage models that were used during the early days of space exploration. A wide variety of chronograph watches have been produced under the Speedmaster name, but Omega still produces versions of the classic Moonwatch that are powered by traditional manually-wound movements.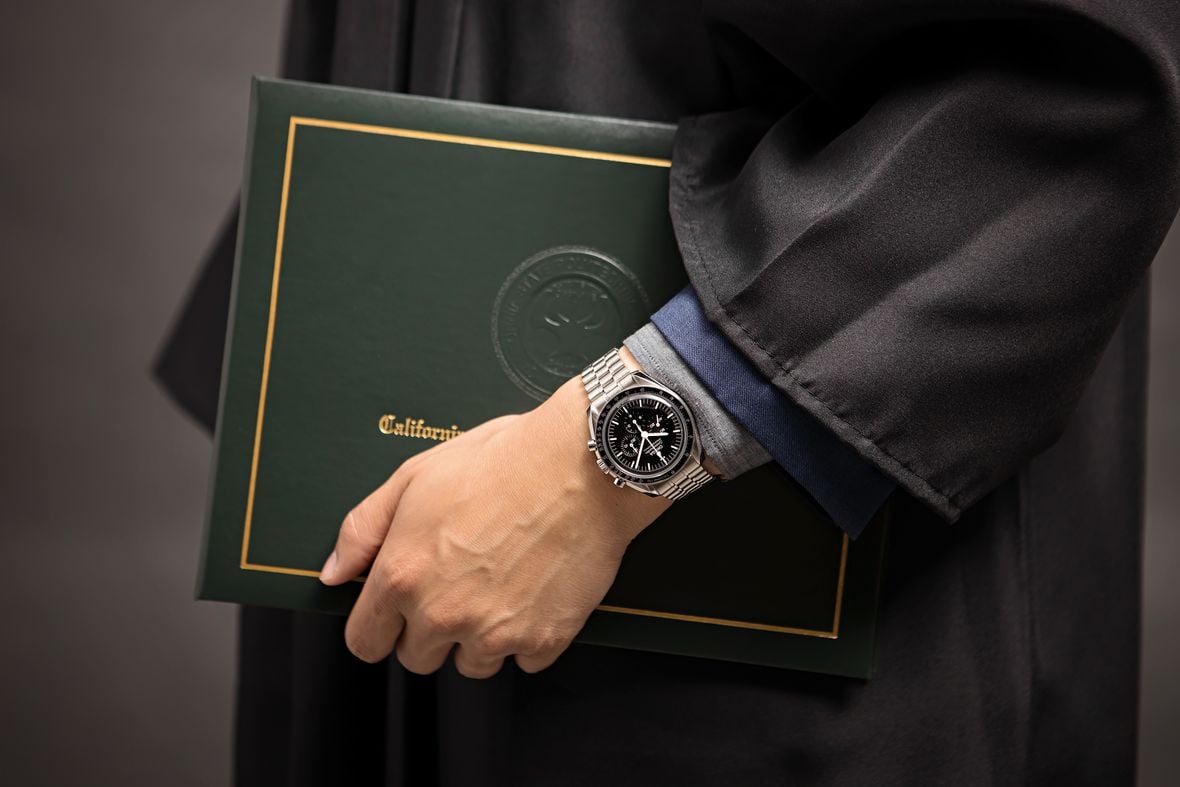 The current generation of the Omega Speedmaster is now powered by Omega's latest generation of in-house Master Chronometer Co-Axial calibers that offer chronometer-certified performance and truly impressive antimagnetic capabilities. However, you can still get a version of the classic Moonwatch (ref. 310.30.42.50.01.001) that is fitted with a solid steel caseback and domed Hesalite crystal – just like the models that were first worn on the moon more than fifty years ago.
The design of the Speedmaster is about as timeless as you can get in a chronograph and it represents a perfect blend of utilitarian functionality and refinement. Despite remaining in constant production since 1957 with only minimal and sporadic updates, the classic Moonwatch has never once looked out of date.
The Speedmaster is a timepiece that will always be able to occupy a cherished place in any watch collection, regardless of the other models alongside it. The model has quite literally traveled to the moon and back, so you know that it is up to the task of accompanying your recent grad into the next stage of their life – even if they have their sights set firmly on the stars!
Tudor Black Bay Fifty-Eight
Tudor is Rolex's sibling company and ever since the brand was first established in 1926, its goal has always been to offer high-quality timepieces at a more accessible price than its ultra-famous big brother. In the past, Tudor was able to achieve its lower price point by using Rolex cases fitted with third-party movements. However, just like any good sibling rivalry, Tudor has been aiming to bridge the gap with Rolex in recent years, and the brand has started manufacturing its own in-house movements and digging into its rich history for design inspiration.
Today, the Tudor Black Bay collection is the brand's most famous and best-selling line of timepieces and among its wide variety of models that span everything from GMT's to chronographs, it is easily the various dive watches that are the most popular. Available with either 39mm or 41mm cases, the Tudor Black Bay Fifty-Eight is the 39mm version that most closely adheres to the celebrated vintage proportions, and it is currently the most desirable model in Tudor's entire contemporary lineup.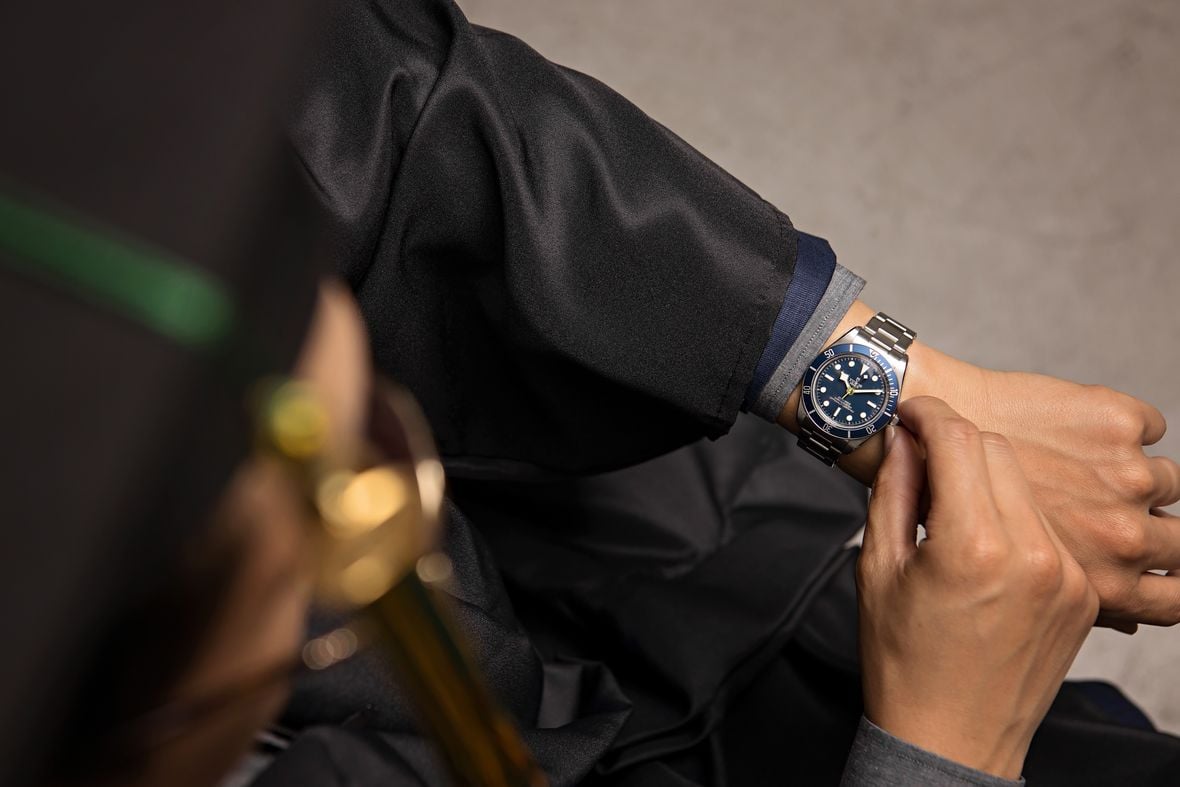 Tudor Black Bay watches feature vintage-inspired designs created with modern materials and advanced manufacturing techniques that offer users the aesthetic enjoyment of a vintage watch without having to worry about irreplaceable discontinued components. As a proper dive watch, the Tudor Black Bay Fifty-Eight features a unidirectional rotating timing bezel and offers 200 meters of water resistance. Additionally, the model is offered in stainless steel with the choice of either black or blue dials and bezels, or in the form of two premium precious metal editions in sterling silver and solid gold. There's also the boutique-exclusive Black Bay Fifty Eight Bronze, complete with a brown-bronze dial and bezel.
Powered by Tudor's in-house Caliber MT5402 movement, the Black Bay Fifty-Eight offers chronometer-certified timekeeping performance, and as you would expect from any brand associated with Rolex, everything on Tudor watches is executed to impossibly high standards. Vintage Tudor watches are increasingly becoming valuable collector's items, but the Tudor Black Bay Fifty-Eight makes a perfect go-anywhere, do-anything timepiece that your recent graduate can strap on their wrist and never look back.
Oris Aquis
Often regarded as one of the best values for the money in the entire Swiss-made watch industry, Oris is a brand that consistently punches well above its price point. Founded in 1904 and based in the town of Hölstein, Switzerland, Oris is an independent manufacturer and not part of any larger watchmaking conglomerate. Today, Oris makes nothing but watches powered by mechanical movements and the brand is increasingly becoming a top favorite among many collectors.
Oris makes several watch categories, ranging from divers and pilot's watches to motorsport-inspired pieces and dressier numbers. Yet, it is Oris's two dive watch collections, the Divers Sixty-Five and the Aquis that remain the most popular.
All Oris watches fall into one of four categories (diving, aviation, culture, and motorsport) and it is Oris's two dive watch collections, the Divers Sixty-Five and the Aquis that are the most popular. While the Divers Sixty-Five range consists of vintage-inspired models that draw heavily on design elements from Oris's past, the Aquis lineup offers a thoroughly modern design that is distinct to Oris, and Aquis models offer increased depth ratings compared to their vintage-inspired siblings.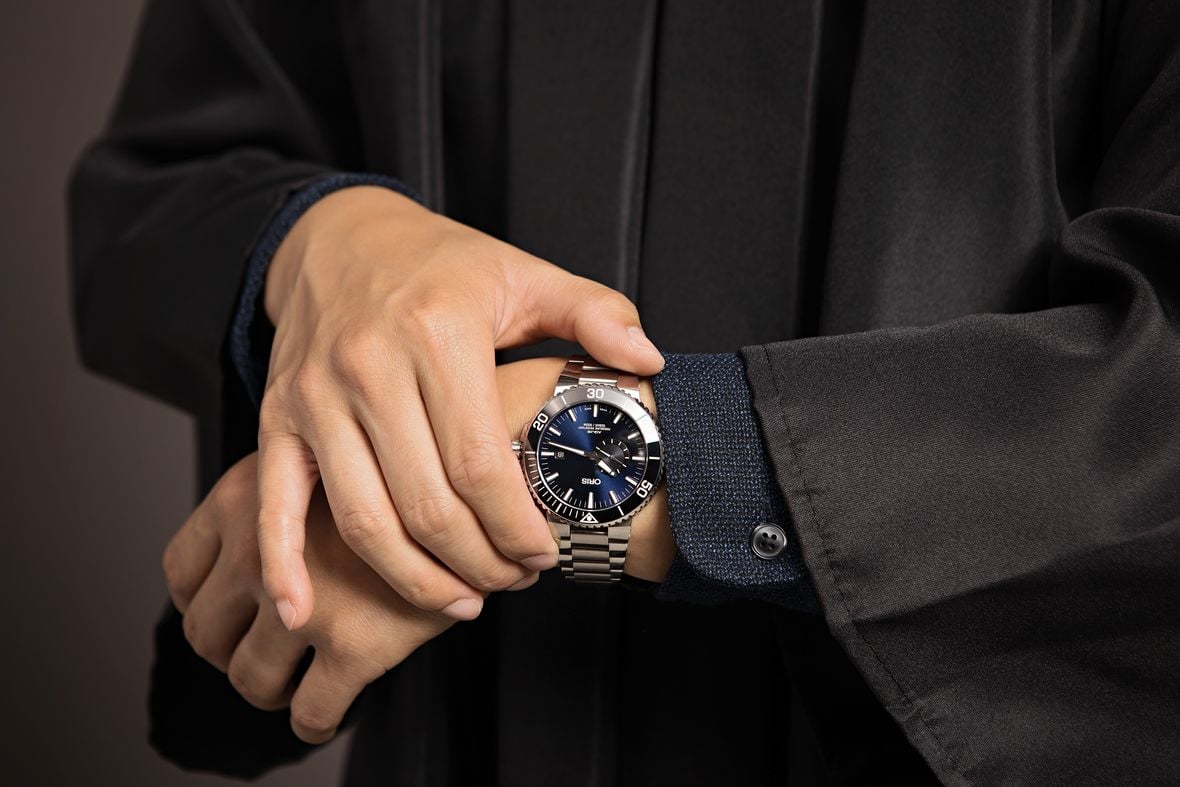 The Oris Aquis is the brand's best-selling collection, and it spans an incredibly wide variety of models that feature different case sizes, materials, colors, and complications. Despite the staggering diversity found within the range, all Oris Aquis watches are united by their bold and modern design language, and even the least water-resistant models from the current lineup offer a depth rating of 300 meters. While the Oris Aquis has all the capabilities of a professional dive watch, its versatile styling and rugged construction make it an excellent everyday watch that is perfectly at home both above and below the surface of the ocean.
Oris Aquis case sizes range from a compact 36.5mm all the way up to 49.5mm, and available configurations include simple time and date models, pointer date references, chronographs, GMT's, day dates, and even a professionally-oriented version with a built-in mechanical depth gauge. A budget of anywhere between $1k and $2k grants you access to all but the most premium of Oris Aquis models, and with the wide range of sizes and styles available, you have the ability to choose a model that perfectly suits your recent graduate's unique style, their aesthetic preferences, and what they plan to do in the next chapter of their life.